House rejects resolution to censure Maxine Waters for controversial comments on Derek Chauvin trial
By Emily Wood, christian Post Reporter Follow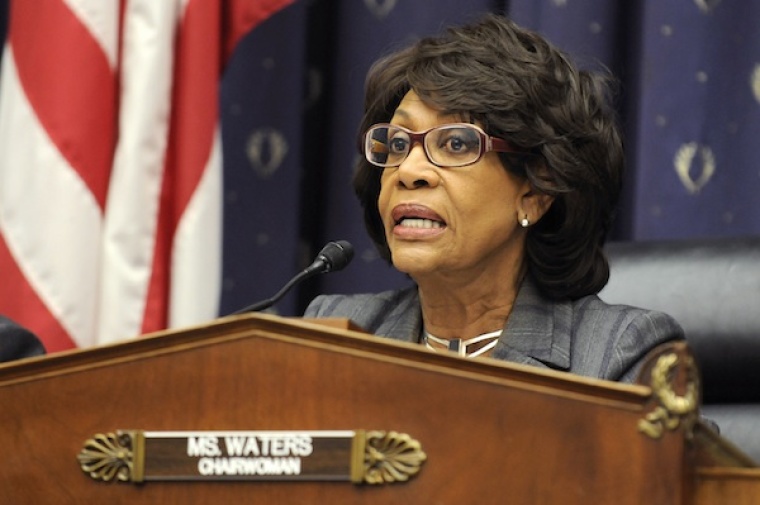 House Speaker Nancy Pelosi and House Democrats came to the defense of Rep. Maxine Waters, rejecting an attempt by Republicans to censure the California Democrat for telling activists to get "more confrontational" if ex-police officer Derek Chauvin was acquitted in the George Floyd murder trial. 
"Maxine talked about confrontation in the manner of the Civil Rights movement. I, myself, think we should take our lead from the George Floyd family," Pelosi said during an appearance on CNN Monday. "They've handled this with great dignity and no ambiguity or lack of misinterpretation by the other side."
"No, no, I don't think she should apologize," the fellow California Democrat added.
Waters faced a censure resolution from Republicans over comments she made at a protest in Minnesota Saturday in response to the death of 20-year-old Daunte Wright, who had a warrant out for arrest and was shot by a police officer after he attempted to resist arrest last week during a traffic stop. 
The protest took place in Brooklyn Center, Minnesota, not far from the location of the pending trial for Floyd's murder in downtown Minneapolis. 
"We're looking for a guilty verdict. We're looking for a guilty verdict. And we're looking to see if all of this [inaudible] that took place and has been taking place after they saw what happened to George Floyd," Waters, D-Calif., said at the protest, according to the Daily Wire.
"If nothing does not happen, then we know that we've got to not only stay in the street, but we've got to fight for justice. But I am very [hopeful] and I hope that we're going to get a verdict that will say guilty, guilty, guilty," Waters continued. "And if we don't, we cannot go away."
Judge Peter Cahill, the judge presiding over the murder trial, was asked by Chauvin's defense attorney, Eric Nelson, to declare a mistrial due to prosecutorial misconduct and Waters' controversial comments. 
Nelson said the jury might be influenced by external factors that could affect jurors due to the inflammatory nature of the comments made just two days before closing arguments began. He moved for a mistrial on Monday, but the judge denied the motion. 
Cahill said he wished elected officials would not reference the case, "especially in a way that is disrespectful to the rule of law." The judge called for lawmakers to let the judicial process play out as intended, according to Politico.
"I'll give you that Congresswoman Waters may have given you something on appeal that may result in this whole trial being overturned," Cahill was quoted as saying.
On Tuesday, a jury found Chauvin guilty of second-degree murder, third-degree murder and second-degree manslaughter.
Many Republican members of Congress have accused Waters, 82, of inciting violence. 
House Minority Leader Kevin McCarthy, R-Calif., announced he would introduce a resolution to censure Waters due to the "confrontational" comment if Pelosi did not take action. 
"This weekend in Minnesota, Maxine Waters broke the law by violating curfew and then incited violence," McCarthy tweeted. "Speaker Pelosi is ignoring Waters' behavior — that's why I am introducing a resolution to censure Rep. Waters for these dangerous comments."
However, the House on Tuesday rejected the attempt to censure waters, according to The Washington Post. The vote to kill the censure resolution was along party lines: 216 to 210. 
Democratic leaders in the House called the censure attempt a ploy to turn attention from inflammatory rhetoric used by Republicans in Congress. 
"I think it's a totally phony effort to distract from what the Republicans know has been the rhetoric of so many of their members, which has in effect, aided and abetted and condoned violent activity," Majority Leader Steny Hoyer, D-Md., told reporters.
Senate Minority Leader Mitch McConnell, R.-Ky., also criticized Waters' weekend actions.
"It's harder to imagine anything more inappropriate than a member of Congress flying in from California to inform local leaders, not so subtly, that this defendant had better be found guilty or else there will be big trouble in the streets," McConnell said, per Politico. 
Waters, who serves as the House Financial Services Committee chairwoman and has been a member of Congress since 1991, defended her inflammatory comments. 
She said during a Sunday interview on MSNBC that it is up to those who hold significant positions to "stand up" and "call for justice" when dealing with the criminal justice system.
Waters previously faced backlash in June 2018 for calling on supporters at a rally in Los Angeles to publicly confront or harass members of the Trump administration.
"Let's make sure we show up wherever we have to show up," Waters said at the rally. "And if you see anybody from that Cabinet in a restaurant, in a department store, at a gasoline station, you get out and you create a crowd. And you push back on them. And you tell them they're not welcome anymore, anywhere."
---
Reader's opinions
---